Effect of Gums on the Quality Parameters of Low Fat Yoghurt
Keywords:
Hydrocolloids, cardiovascular problems, gastrointestinal tract, ynersis
Abstract
Milk is basic component of diet of millions of people around the globe. Milk helps the development of cell growth and digestive tube in gastrointestinal tract (GIT) of a baby. Proteins, bioactive saccharides  and  lipids  are  essential  nutrients  of  milk  which contribution to control the growth of gastrointestinal system of human body. Consumption of Industrially-produced Tran's fatty acids  (IPTFAs)  has  various  adverse  health  hazard.  High  fat contents because serious illness such as high cholesterol level, arthritis, memory loss, weight gain and obesity which leads to cardiovascular problems. Low fat yoghurt is a vigorous healthy choice for consumer due to its different functional and biological properties. Low fat products are demand of all eras but fell short due to low quality. The current study was objective to prepare the low fat yoghurt by using hydrocolloids like different types of gums such as guar gum at the ratio 0.1, 0.3, 0.5% and xanthan gum  0.1,  0.3,  0.5%  and  evaluation  of  various  compositional analysis,   physiochemical   properties,   texture   analysis   and sensory profile. During research, result showed that in low fat yoghurt  during  storage  period  acidity  decreases  while  pH remained constant. However, synersis of product was increased among storage period on the other hand water holding capacity was decreased. As a texture it was observed that addition of guar gum  and  xanthan  gum  with  concentration  0.1%  was  good  as compared to 0.5% concentration.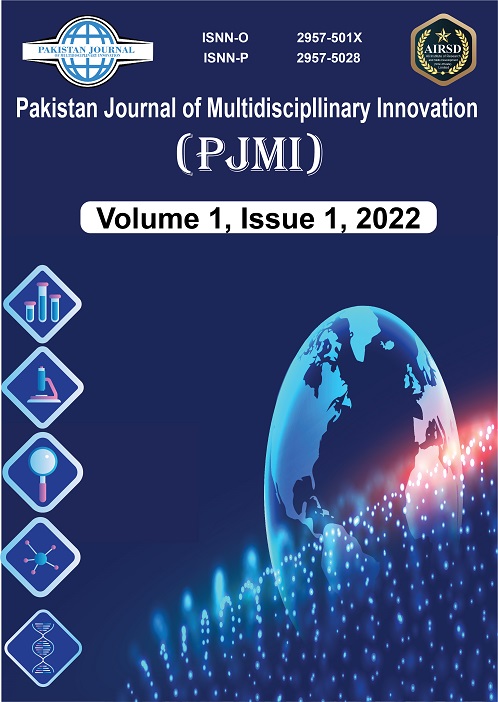 Downloads
How to Cite
Sattar, M. Z., Zaeem Shan, . Z. U., Saleem, M., Sohail, M. A., Murtaza, S., & Muhammad Shahbaz. (2022). Effect of Gums on the Quality Parameters of Low Fat Yoghurt. Pakistan Journal of Multidisciplinary Innovation, 1(1), 45–57. Retrieved from https://journals.airsd.org/index.php/pjmi/article/view/40
License
Copyright (c) 2022 Pakistan Journal of Multidisciplinary Innovation
This work is licensed under a Creative Commons Attribution 4.0 International License.